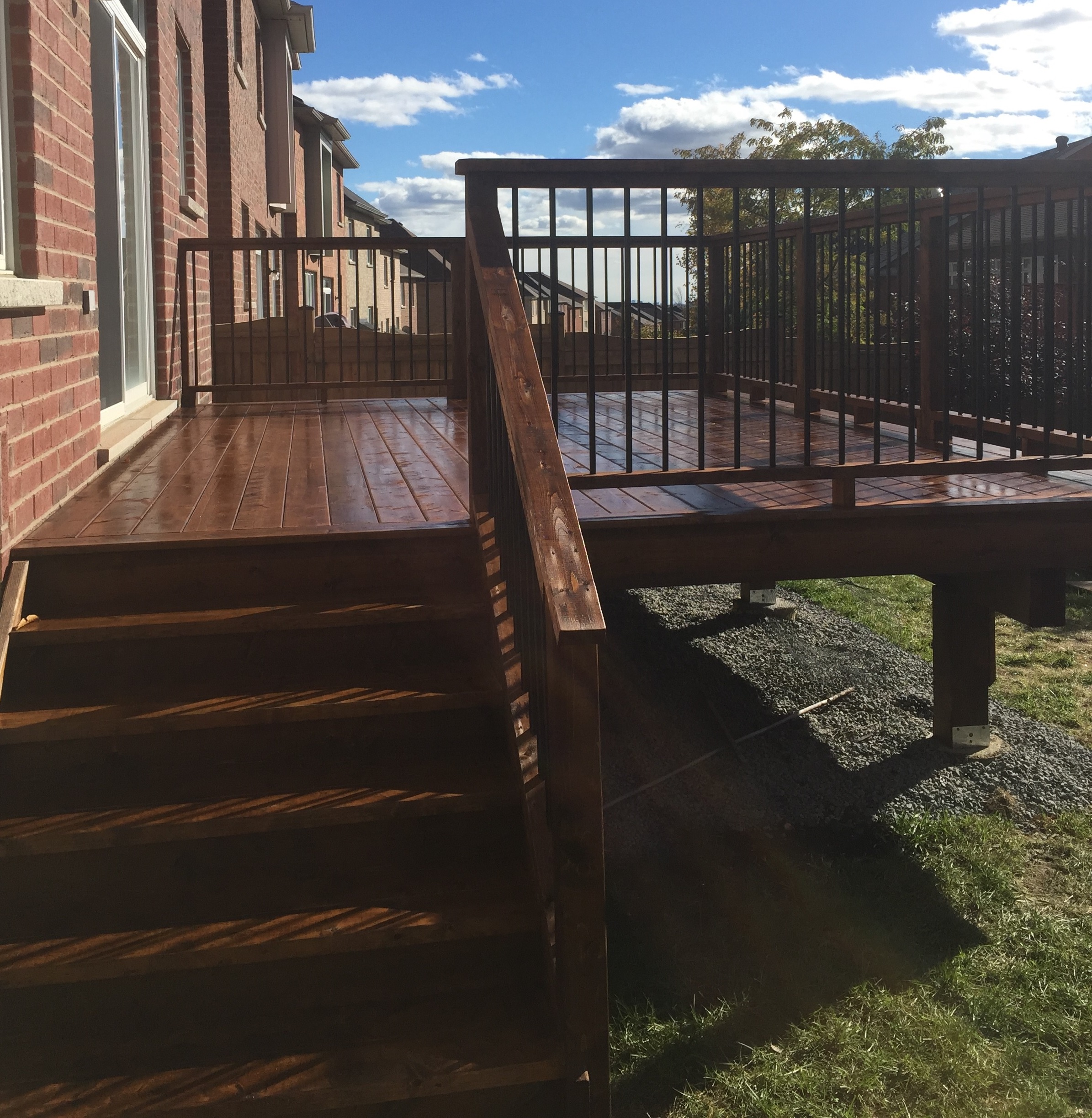 Protecting Your Investment
RAIN or SHINE
Water is one of wood's greatest enemies, along with UV light.
Most finishes which can be applied to wood form a film on top of the surface. This acts to keep the water out and give colour. Some of these finishes can last 1-3 years, however, need to be re-applied as they start failing, resulting in having to be sanded and/or stripped. Not only is this a messy, and time-consuming process, but it can also be costly.
To enhance the natural beauty and longevity of wood, it is important to protect it from the damaging effect of moisture and heat/UV rays. This can be done by way of applying a sealer to the wood, which will add years of life to your deck, gazebo, siding, etc.
Traditionally, what most people would use to protect their outdoor wood surfaces would be a paint or stain. This was used to control moisture as well as to control sun damage. However, what actually happens when you apply a stain, is that these coatings break down in the sun, which allows moisture into the wood. This moisture causes warping and splitting of the grains. The UV damage also causes the colour of the wood to change.
Another option is that some people choose to use oils to protect their wood. The caution to this would be that most natural oils don't penetrate, but rather just sit on the surface. As well, some attract different types of mould to appear.
What we recommend, and use ourselves on the decks and outdoor wood projects that we build, is a product that is a synthetic oil based wood protection sealer. It not only coats the surface of the wood, but it penetrates deeply into the wood where it helps to control the moisture from within. These sealers do not peel or crack. They also serve to enhance the natural beauty of the wood, as you can see the grain through the sealer. And as an added bonus, it is safe to use and very easy to apply.
Feel free to check out this site to read more information on one of these products.
www.cutek.com.au
If you have specific questions about stains vs. sealers, or you would like a free quote to have your deck protected, please contact us.
Check out a pic of one of our recently built pressure-treated decks, sealed with Cutek, in the Walnut colour. Simply beautiful.